OAS Fall 2021 News & Information
Bookmark this page to keep up with the latest OAS announcements and events! If you have questions, email us at oas@fsu.edu.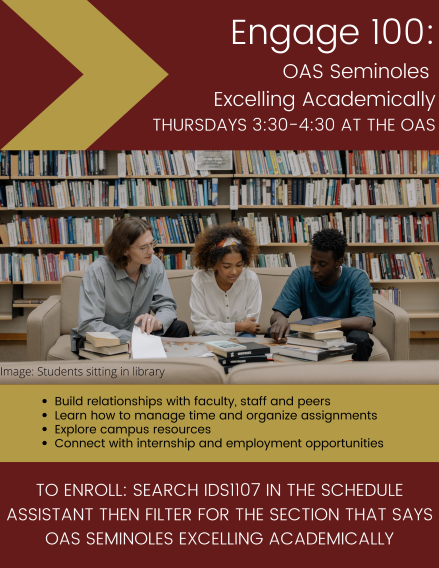 ​
The popular course is back!
Engage 100: OAS Seminoles Excelling Academically
Thursdays 3:30 - 4:30 PM at the OAS
Build relationships with faculty, staff, and peers
Learn how to manage time and organize assignments
Explore campus resources
Connect with internship and employment opportunities!
To enroll: Search IDS 1107 in the schedule assistant then filter for the section that says "OAS Seminoles Excelling Academically"
---
Remember:
Personal Responsibility is THE best way for us to prevent the spread of COVID-19. 
So… where to start? Do your part!
Wash/sanitize your hands after touching commonly used shared surfaces or items such as door knobs/handles, books, pens/pencils…  
Use your own pen/pencil to sign documents, press buttons when making in store purchases with a card, on ATMs, vending machines, elevators, gas stations…
Use your face masks! Especially when sharing the sidewalks with other people coming & going!
Maintain Social Distancing… even while wearing your face masks. 
Elbow bumps are the new "handshake." 
Testing Tips, Hints 'n Help:
Make a study schedule and stick with it!

Decreasing essential sleep time to cram in more study time is counter-productive. It impairs your memory and ability to focus better.