Instructor Portal Login
---
Please download our faculty handbook, which contains all the information you can find here on our website as well as copies of forms used by the OAS. 
Unsure of your role in providing accommodations? Check out this link for a set of instructions on providing our most common accommodations, such as notetaking and testing at the OAS. 
Looking for opportunities to educate and inform your colleagues, peers, or students on the services offered by the office or on a plethora of topics regarding accessibility? Search no further and request a presentation by our staff! 
---
Presentation on Providing Accommodations
Now Available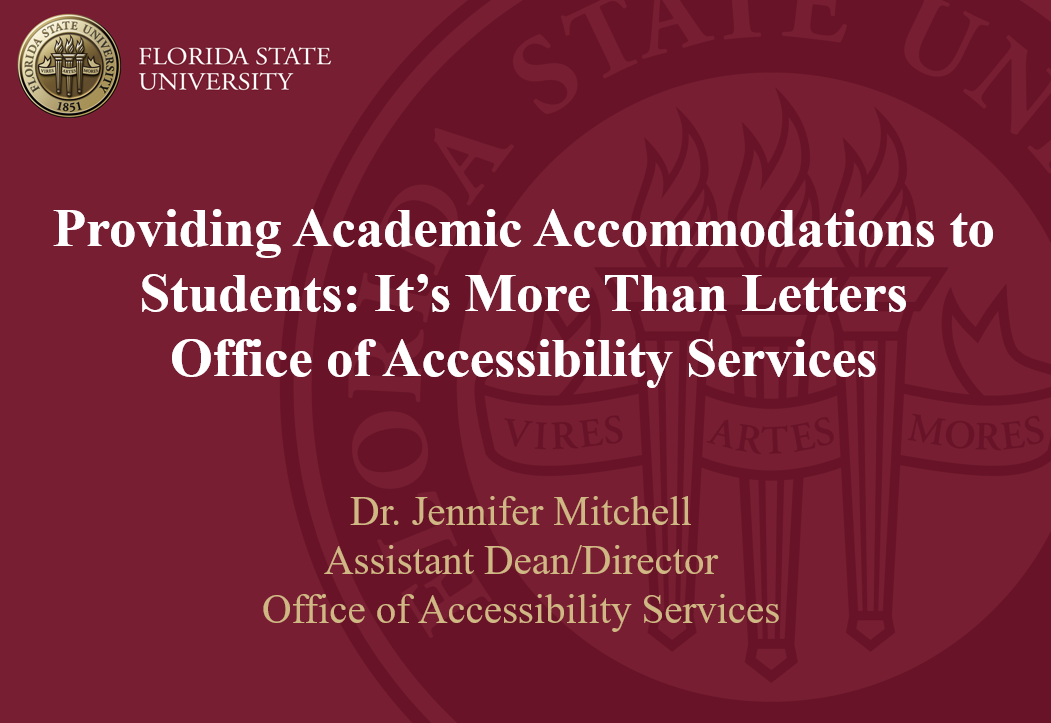 This powerpoint presentation is from the OAS's seminar for faculty and staff, "Providing Academic Accommodations to Students: It's More than Just Letters."
It will assist faculty in gaining an understanding of the role and purpose of the OAS, and improve their ability to discuss the rights, responsibilities, and needs of students with disabilities. The PowerPoint lists strategies for working with students who have disabilities describes actions that individuals and departments can take to ensure that students with disabilities have educational opportunities that are equal to those of their non-disabled peers, and discusses strategies for working with students who have disabilities. Free and available for download by clicking on the image above or one of these links:
PowerPoint (.pptx): Providing Academic Accommodations PowerPoint.
PDF: Providing Academic Accommodations PDF
SEMINAR SESSIONS FOR 2020:
Wednesday, January 22 @ 1:30pm-3:00pm, Student Services Building (SSB) Room 201
Tuesday, February 4@ 1:30pm-3:00pm, Student Services Building (SSB) Room 201
Friday, February 14@ 10:30am-12:00pm, Student Services Building (SSB) Room 201
To sign up, click here! You will be asked to pick a date during registration.
---
ADA Syllabus Statement - UPDATED 3/4/2016
Taken from the Florida State official Syllabus Language Guide:
Students with disabilities needing academic accommodation should:
(1) register with and provide documentation to the Office of Accessibility Services; and
(2) bring a letter to the instructor indicating the need for accommodation and what type.
Please note that instructors are not allowed to provide classroom accommodation to a student until appropriate verification from the Office of Accessibility Services has been provided.   
This syllabus and other class materials are available in alternative format upon request.
For more information about services available to FSU students with disabilities, contact the:
Office of Accessibility Services
874 Traditions Way
108 Student Services Building
Florida State University
Tallahassee, FL 32306-4167 
(850) 644-9566 (voice)
(850) 644-8504 (TDD)
oas@fsu.edu
https://dsst.fsu.edu/oas 
The OAS encourages faculty and staff to help bridge the gap as Florida State works toward universal accessibility in all areas for students. Please explore the references we have available here (links below) or contact us directly at oas@fsu.edu with questions.